Heute ist ein Experiment gelungen, das bisher wenig Freude breitet hat:
RepetierHost auf dem Raspberry Pi.
Ja, ihr habt richtig gelesen: RepetierHost, nicht etwa RepetierServer 🙂
Bisher war das eigentlich nur schwer machbar und wenig sinnvoll, da es noch viele Dinge an den Vorgängermodellen des Rasperry Pi 4 gab, die ein halbwegs flüssiges arbeiten mit dieser feinen Software aus Willich, Germany, verhindert haben.
Mein RPI v.4 hat 2GB Ram und kann schon halbwegs flüssig optisch darstellen, was passiert.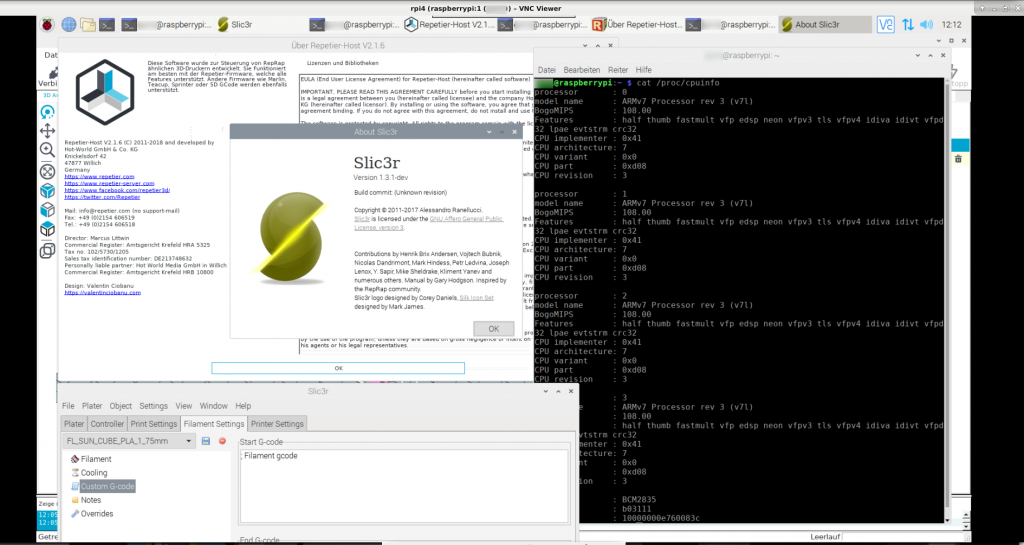 Was geht bereits jetzt?
repetierHost auf Raspbian installieren und starten.
Slic3r von git installieren und starten.
Slic3r in repetierHost einbinden und Konfigurationen (config-bundles) vom "richtigen" Rechner benutzen.
repetierHost per USB mit dem 3D-Drucker verbinden und …DRUCKEN!!!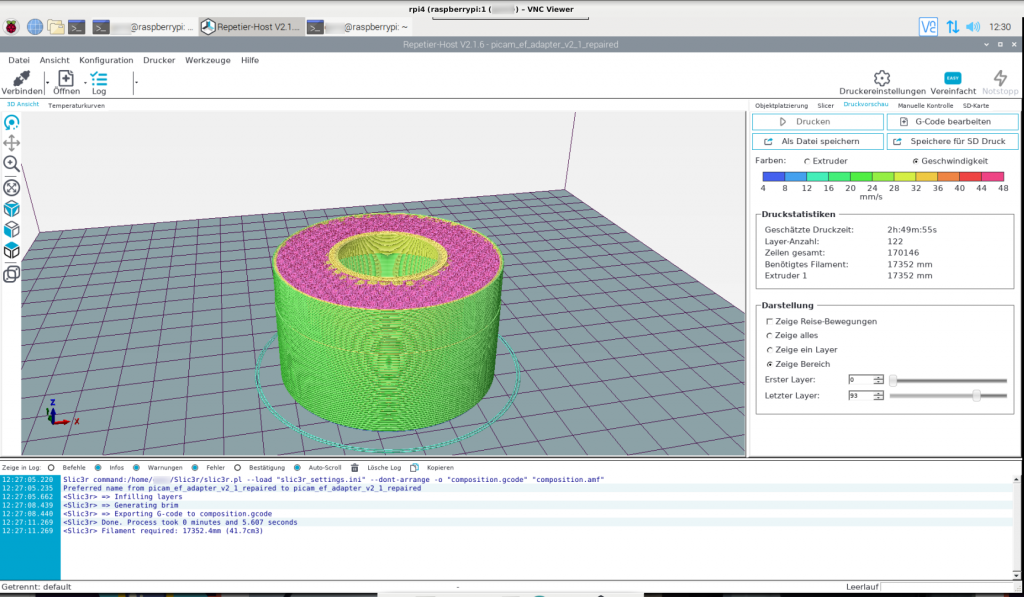 Das alles passiert über eine VNC-verbindung, mit der ich den RPI4-Desktop per VNC-Viewer auf meinen Rechner oder Tablet hole und von dort aus arbeite. Es sollte noch einfacher werden, wenn man per Touchscreen via HDMI arbeiten kann.
Natürlich läuft auch OctoPi aus den Git-Quellen bereits bei mir auf dem RPI4 (inklusive RPI2-Webcam). Aber Repetierhost ist eine Software, mit der ich seit Jahren arbeite und die dank ihrer vielen Konfigurationsmöglichkeiten zum Profi-Drucker für Heimwerker (Maker) dazu gehört 😉
Verwendete Hardware:
Raspberry Pi Version 4B mit 2GB Ram
Original Raspberry Pi Stromversorgung (Leistung hat ihren Preis)
Lüfter auf dem RPI4 (er wird sonst beim Kompilieren einfach zu heiß).
Raspberry Pi Version 2B mit Raspicam. Separate Kamera, da diese auch als Helmkamera beim Mountainbiken Verwendung findet.
Flsun Cube 3D-Drucker (DIY-Eigenbau-Kit aus …China, woher sonst?)
Verwendete Software:
-Repetierhost Version 2.1.6
-Slic3r aus Git-Quellen Version 3.1-dev (Developer-Version, unstabil)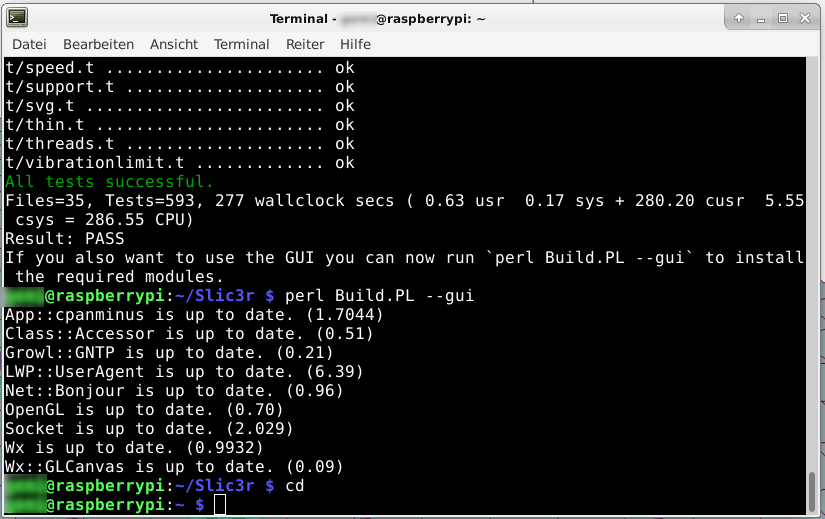 Auffälligkeiten:
Meldung vom RepetierHost beim Versuch, die grafische Ansicht zu verändern:
13:31:00.331 : Disabled additional filament drawing for better framerates and to protect print quality.
13:31:00.332 : You can disable this in Config->Preferences->Basic Settings->Behaviour.
Grund: zu wenig Speicher für die Grafikdarstellung. Werde in den nächsten Tagen mal an den GPU-Einstellungen des RPI4 schrauben und schauen, ob sich etwas verändert.
Ansonsten: Das Druckergebnis ist SUUUUPER;-)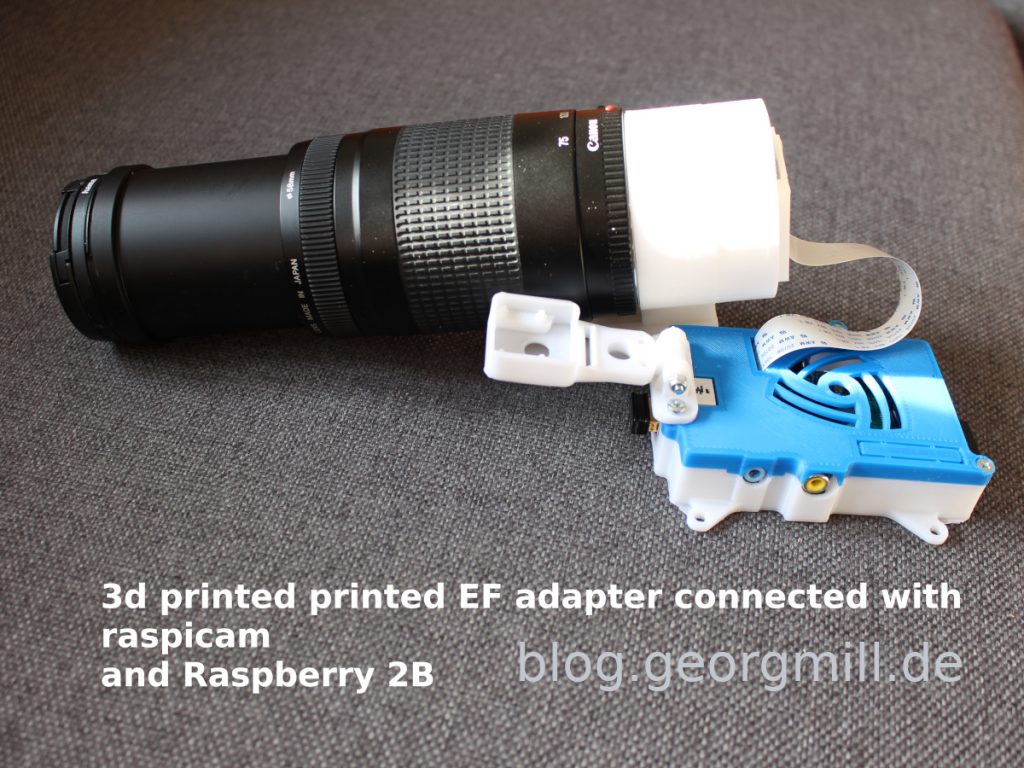 Sollte jemand Interesse daran haben, wie das funktioniert, schreibe ich (ausnahmsweise) auch mal ein kleines HowTo dazu.
Have fun.